GTA Montclair: Cars stolen out of Montclair residents' driveways
Cars are being stolen right out of people's driveways in Montclair. This is a big issue as many juniors and seniors at Montclair High School now are able to drive. Just one little mistake such as forgetting to lock your doors can result in your car and even other valuable goods being stolen. 
Montclair homeowner, Chantal Pine's car was stolen right out of her driveway. "It happened around 3:30 p.m. We were home. We had just gotten back from spring break the evening before." Pine said. Her husband went to get the dog from boarding around 3:00 p.m., and when he came home with the dog, he didn't realize he left the keys in the car. 
"By around 4:00 p.m., we realized the car was gone from the driveway. The police were alerted and [the police] found the car in Newark." Pine said. When she got the car back, there was notable damage on the taillights, and the GPS was missing. "We were lucky to get it back," Pine said. 
A few months prior to this theft, there were patrol officers outside of Pine's house. They warned her because known car thieves were searching for a car in, an Audi Q7.
According to Microsoft Start News, a Montclair resident reported that her Volkswagen was hotwired and stolen on February 25th while her car was locked and she had possession of her keys.  Allstate Insurance Company recommends a vehicle immobilizer system to prevent hot wiring.  
Montclair's Margaux Lynam's, Honda Odyssey minivan was also reported stolen. "Around 3 am a group of teenagers walked up and down the street checking car doors." Lynam said. She also had a second car in her driveway. Lynam left her keys, backpack and laptop in her minivan. The keychain also had a key for the second car attached, although they did not take anything from the second car.
"A bunch of neighbors had gotten alerts from [security] cameras, and saw the kids testing doors and called the police…In the morning, we realized that the car was gone as we were about to take the kids to school." Lynam said. 
While she was waiting for cops to come, her neighborhood group chat sent videos of the thieves driving in her minivan from their security cameras. Her keys to the van had an AirTag, an Apple tracker you can attach to various objects. Approximately 20 minutes after the van was stolen, the AirTag was thrown out of the car window.
"Then about a week later, we got a call that they had found the car parked on the side of a residential street in a nearby town, no damage to it," Lynam said. Empty wallets and iPads from other stolen vehicles were found in the van.
 According to The Patch, an anonymous source reported her car was broken into at night, and her glove box was emptied. $480.00 and a laptop were stolen.
Thieves are creative, so make sure you protect your vehicle and never leave valuables in your car.
View Comments(1)
About the Contributor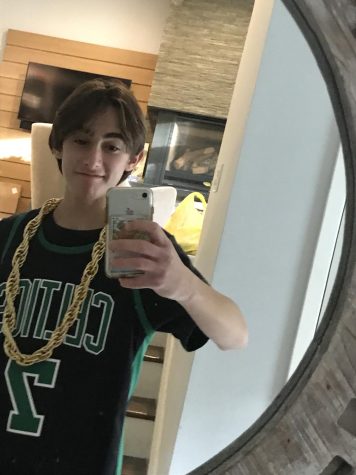 Casey Blau, Staff Writer
Casey is a 9th grader at MHS who enjoys drawing, baseball, and watching movies. He hopes to travel the world in the future and become a professional artist.