Montclair Sports Network: Gymnastics Season Recap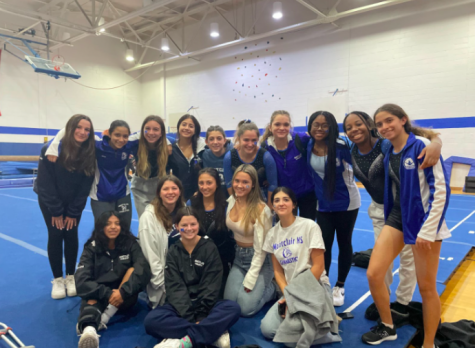 The Montclair High School Gymnastics team was able to complete a very dominant season. Overall, the team finished with a record of 9-2 with their senior captains Bianca LaFazia, Emma Zielinski, and Maya Dressler leading the way.
LaFazia competed all around for the majority of the season. Zielinksi throughout the season competed on the floor. She helped manage and was the main component of the team's morale. And fighting through injury, Dressler supported the team at every meet and was able to compete on floor for their senior night.
When talking to the captains about their final season, LaFazia said, "To me, this season meant a lot. It meant a lot to be chosen and accepted to be one of their (the team's) captains and leaders." The team also was led by some underclassmen who stepped up into larger roles including sophomores Sarah de la Rosa and Surya Shah and freshmen Bailey Grant and Delia John. 
When asked about looking back on the accomplishments made this season, assistant coach Taryn Schnell said, "This is a huge accomplishment for the history of the program. This is my fourth season, and our best record thus far."
"Overall, gymnastics can be a very individual sport but the team effort, the cheering, the supporting, certain kids stepping up in situations where someone couldn't compete because of an injury or wasn't feeling great, kids stepping in and just blowing our socks off and putting great routines together. It was an accomplishment for me but really much more for the kids as a whole." 
Coach Schnell mentions the team spirit as a significant reason for their tremendous success.
The chemistry that was built amongst the students, translated into the work they put in the gym. This community the team shared was not always the case. In an interview with the captains, they said, "Our teammates coming in freshman year were not super close and the same thing happened our sophomore year with covid happening we were very distant from one another." However, "Through leadership, our team got a lot closer to each other both inside and outside the gym this year.
We love all of our teammates and we are really lucky that it's more of a family and a community than really just a team." Finally, with a vast amount of already proven potential on the roster, Montclair High School's Gymnastics are hoping to perform on an elevated level next year after a historic season.
Leave a Comment